The main reason I didn't take a winter holiday this year is that I was clawing my way up the next rung of the career ladder. During the fall and winter, I read a bunch of articles and blog posts about it while I was aspiring, but it paid off.  The radio silence of the last month has been all about me moving to a new town in Korea and adjusting to my new job. Now that I've achieved my goal and had some time to settle in, it's time to share my story. Like always, this is not a "how to" blog and I'm not going to make a listicle of "things you need to get the job". I'm going to tell you my experiences and hope that it's some combination of informative and entertaining that makes writing worthwhile.
---
Why University?
Twelve class hours a week and 4-5 months of paid holidays a year is a goal worth aspiring to, but it's not as easy as it was 10-15 years ago. I was recently at an expat comedy club where an amateur funnyman showed off the "resume" he used to get his first uni job back in the day. It was a plain A4 paper with the words "tall" and "white" writ large in crayon. I don't know if simply looking like an exotic foreigner was ever really enough, but it certainly isn't now. I worked mainly university jobs before coming to EPIK where I was assigned as an elementary school teacher. However much I may value that experience, I have a lot of reasons for wanting to go back to university teaching, not the least is that primo schedule.
I also like being able to engage with my students about things a little more meaningful than ice cream, Marvel superheroes, and K-pop idols… or at least if we have to talk about those things can we get into the deeper cultural layers? How does it feel to be one of the only countries on earth not colonized by white people when you see Wakanda brought to life? Is there a difference between how you identify or don't with white, black, Hispanic, Chinese characters since 99% of what's made in Hollywood will not represent your culture? How do you feel the suicide of Jonghyun will impact idols and fans? Really, anything more than "who's your favorite?"
And finally, because there is no future in K-12 ESL teaching abroad. Unless you open your own school, there's an age cap (usually 50-55) and no room for advancement or retirement plans. At university, the age cap is generally higher, and there's the opportunity to get tenure. Sure, I'm not that old, and I won't be for a while, but there's no sense in letting the end of the road creep up on me. It's not like I feel confident in my ability to fall back on Social Security in the US in my old age, so I better start building something long term out here.
BTW, If you're looking for info on getting the E-2 visa or getting into EPIK, I wrote about that in a two-part blog called Bureaucrazy part 1 & part 2.
When To Apply
The school year in Korea is from March 1 to February 20 something-eth (varies from school to school). Japan starts in April, but nearly every other country starts in August or September. Most ESL positions start posting ads 3-4 months before they are hiring, and plenty post ads only 3-4 weeks before hiring, but almost none post a year in advance.
I wasn't actually very sanguine about my odds of getting a uni job in Korea and had been thinking I'd have to switch to a fall start in another country. However, the ads for those jobs wouldn't even be listed until after my job in Korea was over and done. I had visions of living in a hostel in Malaysia teaching ESL online for 6 months while I searched for a job in the fall semester. I wasn't worried. I know Korea and Japan are the hardest places to get uni jobs but I had confidence I could find something in Taiwan or maybe even go back to the Middle East.

Then I got back from the Philippines and a friend sent me one ad for a university in Korea that I was qualified for and I was all, "well, it can't hurt to apply", and the next thing I knew, I'd purchased a subscription to profsabroad.com and was submitting 1-4 applications every day.
The Hunt and Fret

I decided a while ago that I would pay for profsabroad because I remember the extreme hassle of going to 5-7 different job sites every day and sorting through the million and a half ads for kindergarten teachers looking for that one gem of a university listing. I don't know why Dave's ESL and all the others can't just create a search filter for schools by type and by age (private, public, kindie, uni, ect), but man it was worth 10$ a month to not have to scour the far corners of the internet for what I wanted.

Once I got all signed up and had my university only ad feed going,  I began to read the ads. This is depressing as hell. I'm not qualified for a lot of them and might never be. There was a lot of "I'm a fraud.", "I'm not good enough", "I've wasted my whole life not doing my professional development correctly.", and "I'm going to die alone in a gutter." during this process. I have very supportive friends who prevented me from drowning in despair.
Overcoming my personal anxiety of self-worth was a daily struggle that didn't end until I got hired. But even the jobs I felt qualified for still had an amazing array of hurdles to jump through. One of the first things I realized I needed to do was make a USB with all possible application materials on it so that I could attach any document quickly to an application email.
7 November 2017 ·

I feel like every time I go on the job hunt, there is some new insane obstacle. This year, it appears to be that I must not only have 20 pieces of documentation to submit each time, but I must have them in multiple formats because SOME places only accept .doc, or .pdf, or .jpg because they don't know how computers work. One place wanted me to combine all 12-15 pieces into a single PDF file. Excuse me while I spend the day making triplicate copies of everything in every major file format for you. HIRE ME!
Gathering The Materials
Cover Letter

CV/resume

professional photo

copies of all degrees

copies of transcripts from all degree-granting institutions

copies of my criminal background check

copies of proof of employment letters

copies of letters of recommendation

copy of my passport

copy of my alien registration card

copy of my TESOL certificate

sample lesson plan

statement of teaching philosophy
All of these in docx, jpg, and pdf format. And just because you spend hours perfecting all of these does not mean you are finished, only that you have a solid foundation from which to start.
Cover Letter
I have a basic cover letter file that I edit for every job application to make it as personalized to the job as possible. Making sure to cover all the things they mention in the ad and maybe even something I know about their school or city as well to show I'm invested. No one likes form letters, but realistically I can't start from scratch every time either. This is my compromise.
Resume/CV
I spent days crafting my CV. I keep it up to date and make sure the formatting is sharp. But it often feels like it doesn't matter at all because even though they ask for your CV, they then ask you to download and fill out (or fill out online) an elaborate 14-page application. Okay, 14 might be a slight hyperbole, but not always. Usually you can't copy/paste because you have to fill in one box at a time or worse use drop-down menus.
It can take several hours to complete one of these even if all you are doing is entering information from your existing documents. After a few dozen, it starts to feel like one of the labors of Hercules, or possibly one of those epic Greek punishments that people like Sisyphus are receiving. More than once I abandoned a job entirely because the application form was broken or because it simply wouldn't allow me to enter real information, or because halfway through I discovered it required me to write a 5-page essay or upload a video of myself. I reassure myself by saying I probably wouldn't have been happy working for an employer this demanding anyway… but it might be sour grapes.
6

November 2017

·

Busan

NaNoWriMo? Try NaResSubMo: national resume submission month, I'm gonna reach my word count in information repeatedly entered into online forms because the schools won't read a resume unless it's been dissected and reentered into a million and one picky form boxes. Finally gave up on one after 45 minutes because they would only accept a copy of my transcript in jpg format.
Video Resume
I'm going to make a video one day… probably at this next job. A lot of employers love the idea of watching you teach on camera. They can see you at work! For real! Like that isn't much more about your ability to stage a performance than your ability to teach… but, it looks good. I couldn't make a video in Saudi Arabia because I could not film my female students. I couldn't make a video here at my elementary school job because of protecting children from online exposure. So, hopefully, at some point in this new job, I can set a camera up and get some footage to use the next time I have to go through this ungodly process. Obviously, the lack of video didn't stop me, but everyone is always looking for that edge up.
Professional Photo

The photo is the other major factor in employment in Korea. Looks are oh so very important here. Can you get hired if you're not pretty? Yes. I've seen plenty of people with great jobs who are not on the Korean scale of conventional beauty. Pretty sure I'm not on the scale of conventional Korean beauty. Oh, they love my skin, but I'm roughly the size of 2 Korean models (I mean, they are *really* skinny, but still). 
I have some previous professional experience as a portrait photographer, so I did my own, but it's important to have a nice photo. I picked out a green shell top and gray cardigan. I did my hair, got that straight iron out, framed my face in a way that it never stays 4 seconds after I leave the house. I put on makeup in the Korean style, pinks for eyes and lips, eyeliner only on the outside emphasizing eye size, and of course BB cream. I stepped out on my balcony for natural lighting and used my silver blackout curtains as a backdrop. Then I took 1000 selfies.
When I finally got a few that didn't suck, I took them into photoshop and made them glamour shots, removing all imperfections in the skin, correcting all the color tones (including that blue in my hair, who needs that?), and cropping and framing as appealingly as possible. How you clean up may not be how you're expected to show up for work every day, but it seems to be an important hallmark of professionalism here.
Even after spending most of a day dressing up and posing and editing my one perfect application photo, it still wasn't enough. One place demanded the photo be "full body", which I guess was to weed out fat people? I was too tired to go through the process again and ended up sending a photo of me at some famous Korean landmark. I never did hear back from that school.
Letters of Recommendation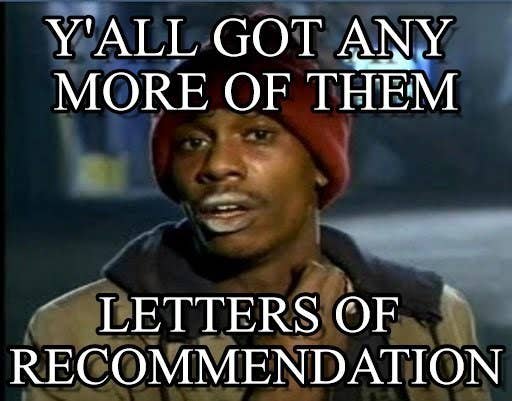 These are fairly standard in the US, although for some reason no one told me as a young adult to always get one every single time I ever left a job or a school. It was a scramble to get letters when I was applying for EPIK and I was pondering the process of asking my supervisor here for a letter when the decision was made for me, and one of the jobs I wanted (like actually wanted not just would apply for anyway) required a letter of recommendation from my current Korean employer.

Just one problem: Koreans don't use the letter of recommendation format ever. They have another thing called an Employment Verification Letter. So I had to explain to my co-teacher/supervisor what it was and why I needed it and she nearly had a panic attack because she'd never heard of anything like it ever before. After a few days of calling everyone in the chain of command, it was finally determined that it was not illegal for her to write me a letter (yes, she thought it actually might be) and that *shock* she didn't actually have to write it herself (for those of you unfamiliar with this charade, usually the person asking for a letter will actually write it and the person doing the recommendation will look it over and sign it, so authentic! What a great system!).

I was given strict parameters that the letter could only contain "objective facts", no opinions (so, they still didn't really understand what a letter of recommendation is for?) but I managed to overcome and got my letter signed by my co-teacher and also stamped with the official red stamp of the school (which is a pretty big deal). It turns out the job I took doesn't need this, but at least I have it in my ever growing pile of official job hunting documents.
Letters of Employment Verification are the standard here (and possibly a growing standard for other countries). The horror about it in Korea is that every job wants an ORIGINAL letter, meaning they somehow expect you to go back to an employer from years ago and ask for this letter again and again? I know in Korea, there's a standard form, so yes you can just submit a form request to your former employer here and get that, but my former employers are in China and Saudi Arabia… it's not that easy. I managed to get one letter from the school in China back in 2015 when I was applying for EPIK, but now they have the original and I'm never getting that back. I only have a digital copy. Meanwhile, the school in Saudi refused to send anything but a digital copy.
Fortunately, it seems like the universities are a shade more flexible about getting copies from non-Korean sources. I was told by the one who hired me that while they "would prefer" an original, they will take a digital copy if that's all I have.

Plus, I went to file for one of these from my current Korean employer and it was made out from the date of hire to the date of letter request, so it's useless… and I had to wait until my contract was OVER to ask again so that it has the right dates. Which was thrilling because my new contract started only a few days after my old one ended and there was plenty of overlap in the new job wanting me to provide paperwork before my start date. In the end, it's still not a deal breaker because at least I'm dealing with two Korean institutions and they expect things to be done in the Korean way.
Answering Ads
Most of the ads I read, I didn't qualify for. The craziest of these was the school who wanted a teacher with a Ph.D. AND 10+ years of experience teaching university AND not be over 40 years old. As far as I can tell, that means someone who graduated from high school knowing they wanted to be a university teacher in Japan and going immediately into TESOL courses with no time off or time spent exploring any other career or even time spent working at any other educational institution than another university. That is some kind of unicorn.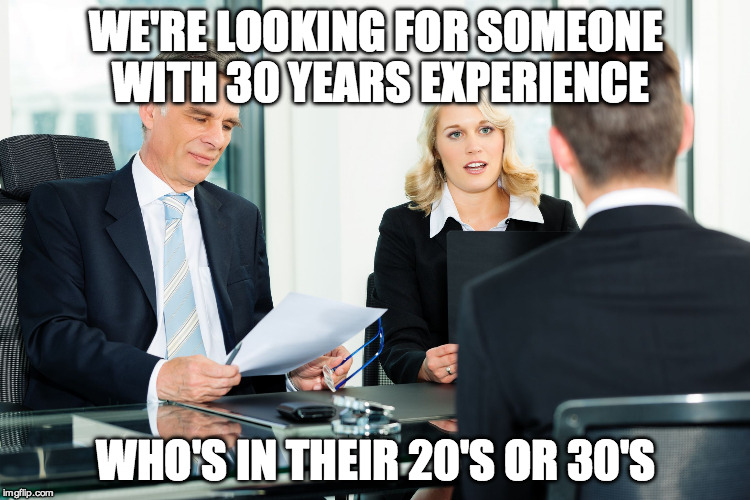 Of the ads I qualified for, I still couldn't apply to all of them because some just had hoops that were too absurd for me. It is technically free to apply, and I know all the adages about trying and what do you have to lose, but there is legit a point where what you have to lose is 5 hours of your life and 5% of your sanity for a 0.0005% chance of a job and it's just not worth it.
Fortunately, there were plenty of ads I did qualify for and was willing to jump the hoops of. I sent hundreds of applications. I spent an average of 10 hours a week on this, possibly more, from mid-October till after Christmas. It consumed my free time. It consumed my thoughts. It was the all-singing, all-dancing stress of the universe.
A few places had the decency to send emails that they received my application, most of them just vanished into the void.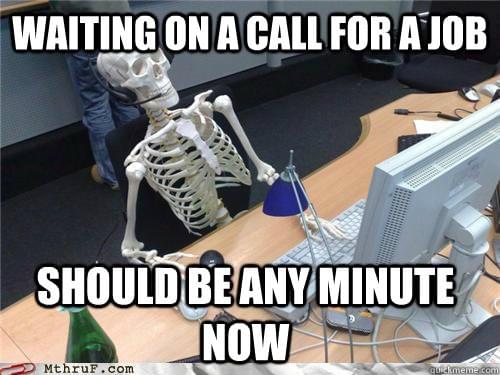 ---
To avoid overwhelming you with a novel-sized blog post, I've decided to insert a non-commercial break. Stay tuned for the second installment where our heroine finally receives signs of interest from potential employers, must make hard choices about job offers, and finally reveals her hard-earned life lessons to you, the faithful reader.