While WiFi is becoming more common, and the EU recently passed the free roaming rules, getting mobile data as a non-EU resident is more challenging than it needs to be. I read a lot of blogs before I went and no one really seemed to know what I should do. If you're an EU citizen, it's great, because you can travel anywhere in the EU and use your home plan without paying more. As a tourist, it gets … complicated.
Some people (mostly older than me) may wonder why I'm so data dependent. It is really a convenient way to combine your travel guide, phrasebook, map, and camera in one little device. Sure, paper can't "break down" but it can be heavy to carry all of those things, and they can be lost or damaged, too. I just like being able to look up any and all necessary info on the go while traveling. How and where to get my SIM card is one of the most critical parts of preparing for a trip.
This post is part rant, and part hopefully useful information for future travelers who encounter the same obstacles I did.
---
Paris:
I arrived in the airport quite late at night and all the shops that might have had SIM cards were closed. Instead, I got my first SIM card the following morning at a little neighborhood shop. I opted to use LycaMobile as my service provider.
I bought a month worth of data thinking it would work all over Europe. I was wrong. I can't tell you what you should buy for an EU trip starting in Paris, but I advise that whatever company you chose, start with the minimum purchase and add more GB later if it works. That way if it stops working when you cross a border, you don't loose as much. Oh, and don't expect to be able to add data or minutes using any online form of payment unless you're a resident of the country you bought the SIM card in since they don't let foreign bank accounts pay online!
---
Belgium:
My mobile data stopped working as soon as the bus crossed the France-Belgium border. It said I was running with 3G but refused to load anything. I tried to fix it but nothing worked. Brussels has a lot of free WiFi so I survived my arrival, but the smaller towns were not so convenient.
I was stuck going to Ghent without data because it was the only time I could see St. Bavo's, but the next day back in Brussels I tried to find the LycaMobile shop, thinking maybe they could get my SIM card from France to work.
I walked around aimlessly because I just could not orient myself on the map without mobile data to fill in the blanks. I used to read paper maps, I feel like I'm usually good at maps, but for some reason the streets of downtown Brussels were confusing as heck to me.

Finally I found it and it turned out to be two dudes in a tiny room with one fan and one desk and a lot of people in line. (That photo is from Google Maps, the day I went it was sunny and there were WAY more people in line, but this is about what it looked like.) The line was short when I walked up but it grew fast. LycaMobile is the cheap phone service of choice in the EU which is why I picked it, but I was not the only person having problems. In Belgium you have to register your sim card at an authorized shop and there aren't many of them. The only other white people in the line were also backpackers.
The guy who helped me really did his best. He tried everything to get it to work and when he couldn't he took it to his boss. In the end the answer was definitive: LycaMobile France and LycaMobile Belgium aren't really the same company, just owned by the same company, so this isn't really our product.
I don't blame the guys at the shop (well maybe the one in Paris who should have known this was going to be a problem), but I must recommend AGAINST LycaMobile for non-EU residents who want to do multiple countries. They get good reviews online which is why I chose them, but when I went back and looked later, all the good reviews were from EU citizens.
Orange had some bad reviews from non-EU citizens that were basically once they got your pre-paid money, they don't care if your service works.
Proximus looked like my best option so I went to find the one in the train station. The line was long again but it was a real retail store and not some shady looking box with two guys at one desk in front of a roll up security door the way LycaMobile had been. (this photo is from Proxiumus' website, but you get the idea)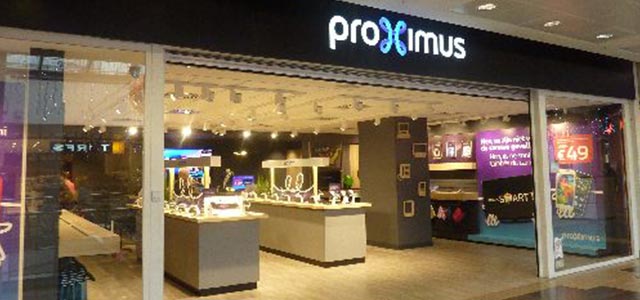 When it was my turn the sales person helped me to understand the way the card worked as well as how to top up. For 10€ I got the card and 500Mb. It doesn't seem like much but they're is a lot of free WiFi around, so it is enough if you're careful about uploading and streaming. I asked the sales clerk about the Netherlands and she said she thought it should work but urged me not to buy too much data just in case (refreshing to be urged to spend less!).
Important to note, that while the SIM must be purchased in a regulated shop and registered, top up cards are all over the place. I was told you can only top up online with a Belgian credit card, so once I leave Belgium won't be able to get more. I was going to be in Belgium technically 2 weeks, one in Brussels and the other in Lanaken, the small town near Maastricht, Netherlands where my Airbnb was located just on the Belgian side of the border. During that week I'd be going across to The Netherlands and Germany, and I figured if the data worked I could buy lots before finally leaving Belgium for good.
One more thing I noticed, when I got LycaMobile in France I had to activate roaming on my phone for it to work… even though I was in France. I thought it was weird but also thought maybe it was a feature of the global plan that it was just always roaming.
My Belgian plan looked like normal data, no roaming needed in Belgium which is more in line with my expectations.
Later that week, on my way to Antwerp, I had another mobile mishap. I didn't realize I needed the PIN code to restart my phone, sooooo I accidentally locked myself out for the day (the PIN was in my hotel room and I was already at the train station!) In addendum to recommending Proximus, I would urge users to carry their SIM pin on them in case the phone resets.
---
The Netherlands, Germany, Denmark, Sweden, Norway
Proximus worked smoothly across Lanaken (Brussels), Maastricht (Netherlands) and Aachen (Germany). I decided to buy what I hoped was enough data for the rest of my trip through Germany since I thought I would not be able to top up once I left Belgium.
I had zero issues all throughout the Netherlands (Den Haag, Amsterdam), crossing back into Belgium (Leige), and in Hamburg, Germany. The Proximus service occasionally took a few minutes to adjust to crossing a border while it searched for a new network but it operated exactly as advertised.
I also discovered the happiest of circumstances while in Germany. I accidentally forgot to use my WiFi to upload photos and it ate all my data. I had been told that it would not be possible to purchase top ups outside Belgium without a Belgian bank account, however, the Proximus website had a PayPal option!!!!! I was able to top up my account from Germany using my Korean PayPal. Plus, buying top-ups came with free Mb, so it was actually a very good deal financially. I was able to stop worrying about hoarding my data bytes and just enjoy the trip for the rest of the EU countries.
TDLR? LycaMobile BAD. Proximus GOOD!
---
Moscow
I heard that there was tons of free WiFi all over Moscow, so I decided that my 20 hour layover didn't require a SIM card. I regret this decision.
I was able to use the WiFi in my hostel with no issue, but when I tried to log into the free WiFi at the metro station, I could not get anything to load.
During lunch, I asked the staff of the hotel restaurant if there was any way to log on, but without a room number or Russian phone number it was impossible. They didn't even have a guest account available for customers of the bar or restaurant. The more places I went, the more I realized this is just the way it works. Even Starbucks, a place famous for it's free WiFi was inaccessible to anyone without a Russian phone number.
Eventually, I was able to figure out the public WiFi on the metro; however, two things: it only worked IN the subway cars (not on the platform or in the station), and the internet access was severely limited, allowing me to use Google Search and Google Maps, but not Facebook or Instagram. It did help a little, but it was hard because the service would also stop every time the cars pulled into a station!
So, if someone tells you not to bother with a SIM card because there's plenty of free WiFi they are both right and wrong. Depending on when your helpful adviser was last in Moscow, there may have been an abundance of free public WiFi. However, just like the EU is changing it's roaming rules, the Kremlin is kracking down on anonymous internet use. In 2014 the government began to implement laws requiring netizens to have some kind of ID to get online. I'm assuming this is why you have to be a guest at a hotel to use their wifi (the hotel collects your ID), or you have to get your confirmation code via text to a phone number that is also matched to your ID somewhere.
The WiFi is still free to use in the sense that it doesn't cost money, but you can't use it without some kind of ID. If I had known, I would have made getting a SIM a higher priority since it seems they are not too hard to find, but by the time I realized that WiFi was going to be impossible, I was more than halfway through my day and had no way to look up where to buy a SIM!
---
I didn't receive any kickback for reviewing any of the companies above. This is just my experience and opinion in the hopes that my trial and error may help out a fellow traveler some day. Also, as I noticed myself, the times they are a'changin', so if you're reading this post in the distant future, please double check that these policies are still in effect for the time of your trip.