We are at the end of my stories about this recent visit to Nagoya. I saved a special story of human awesomeness for this last post because nowadays I feel like we need all the random acts of kindness available. I've also collected the various encounters I enjoyed with the city's greenery and gardens. I love living an urban life for so many reasons: transportation, culture, food, a wide variety of craft beers… but after spending so much of my life near trees I get antsy if I'm not next to one for a while. Nagoya could give any green city a run for it's money as far as that goes, and although the Atsuta Jinju Shrine was far and away the most immersive natural experience, there were other treasures around town worth mentioning.
---
The Nagoya Green Belt, Hisaya Odori
Hisaya Odori is one of the main streets in Nagoya, and it runs through the Sakae neighborhood for about 2km. It's filled with flower gardens, green grassy spots, beautiful fountains, the Nagoya TV tower and the Oasis 21 center, plus some truly large trees. It's like a lovely green ribbon in the heart of downtown. I adore this and want one in every city.
After shopping in Osu, and the surprise dance show in Sakae, we headed over to the Hisaya-odori Garden Flarie, which is a cross between a botanical garden and an outdoor barbecue restaurant. It's free to enter and explore. That day I was greeted with a magical rose maze filled with hundreds of varieties of roses in full bloom. It smelled amazing! It wasn't huge, but it was so packed with flowers I felt completely overwhelmed! In a good way. I wasn't the only one appreciating the blooms, as an entire photography class had come out with their very expensive cameras to have a chance at the wonderful backdrops.
Once I made it through the roses, I found a small lake surrounded by more flower beds. One of the city's giant crows was having a bath in the stream feeding into the pond, and didn't seem at all bothered by the humans wandering around. Finally, my flower power boost wound down and we plopped into some comfy chairs to listen to the live music.
Beer Festival Walk Through
Later that evening we ran into the Belgian Beer Festival taking up about two blocks worth of the park, so we decided to stroll around as an after dinner food-settling walk. It did look like a decent beer selection was available, however, it was set up more like a beer garden than a tasting festival. A glass was 8$, and although tickets to get it filled were 2$ each most beers were 3-5 tickets. They were good looking beers from nice craft breweries, so I don't mean to suggest they weren't worth 6-10$ a pint. However, neither of us really wanted a keepsake glass, and we found it a little sad there was no option for tasting available.
A few years ago I ran into a wine festival in Prague that had what strikes me as the perfect set up. Five dollars for the glass (a better price point), and then wine could be had in "taste" portions (1-2 oz) for a single ticket, or full glass portions for more tickets. This allowed guests to taste several wines without going broke or getting drunk, and then settle into buying full glasses or even bottles of their favorites. Beer is so filling, I couldn't imagine drinking even a full pint after my wonderfully huge meal of Hitsumabushi, let alone drinking enough to even taste the 3-4 beers that had caught my eye. Still, it was fun to see what was on display, and it was a nice slow post-meal walk before we turned up the speed to find the subway.
Tokugawa gardens
Tickets to the Tokugawa Gardens can be purchased at the same time you buy your Nagoya Castle ticket (combo ticket ftw) which gets you a slight discount if you are planning to do both, but does not include the art museum at the gardens.
After I finished at the castle grounds I took the Me-Guru tourist bus to the next stop, Tokugawa Gardens. The Me-Guru stop is on the opposite side of Castle from where I came in, but the ladies at the ticket office were well familiar with the bus I was looking for and gave me directions. If you do take the Me Guru TO Nagoya Castle, just be aware it will pass you through a little "village" with food and shops. I am not sure if the golden ice cream is in that one as well, but you can get your hand stamped at any gate should you want to exit and return later on the same day.
I finally found the Me Guru stop, but the first golden bus to pull up was going to the wrong place! I thought like most hop-on-hop-off buses it would be a single circular route, but I was mistaken. Be sure you ask the driver if he's going to your stop when you get on (no need for elaborate Japanese, they mostly know the stop names). In my case, the driver advised me to hop back off and let me know about what time the bus I actually wanted would arrive. Very kind and helpful.
I ended up waiting for about 30 minutes. It probably would have taken about the same amount of time to walk over to a subway/ regular bus station and go from there… maybe? But I didn't have WiFi to check any alternate route and it honestly felt nice to just sit still for a while after walking the palace grounds all morning. If I'd checked the Me Guru routes and schedules better, I could easily have spent that time in the little village of shops I passed between the castle and the bus stop, so that's on me.
For more info on how to use the Me Guru, see my post about Nagoya Castle.
The golden bus drops you off right at the gates to the gardens, and I was able to show my combo ticket to get in with no trouble. The gardens start out with a main square that houses the entrance gate and the museum (which I did not go in that day). There is a large lake to walk around and feed koi fish in. The koi are ginormous. Biggest koi I have ever laid eyes on. I think there are smaller tuna. Some were close to a meter. There were also many colors, mainly the gold color and the calico mix of orange, black and white, but there were also ghostly solid black koi that were invisible even a few cm under the water until they broke the surface. They were like swimming shadows of fish. It was fascinating to watch.
Near one edge of the lake, the concrete path leads right up to the edge of the water and the fish are clearly used to associating humans with food because they come in droves as soon as any two-legs gets within sight of the water. I was able to get some very close up photos of the koi who were trying to see if my phone was edible. Good thing they don't have teeth!
I thought about circling the lake because it was quite pretty, but the rain was beginning to patter around and I had left my umbrella at the restaurant the night before, and had passed exactly zero convenience stores that day so far to buy a replacement. It was still light rain, and it was warm, but it's hard to take sweeping vista photos of a beautiful body of water in the gray drizzle. I decided to head into the trees for shelter and to see if I could find some more picturesque views.
The woods are criss-crossed with paths and stairs that lead all around what is a fairly small area. Despite it's diminutive size, the paths all lead to new and unique viewpoints. I found a little rest area/ cottage at the top of a low hill. It looked like a great place to hide from the sun or rain. There was also a small suikinkutsu, a traditional garden ornament made in such a way that the water falls onto an upturned pot and makes a kind of chiming sound. I don't know if this one was clogged or broken, but I could not hear the sound it is famous for making at the time I was there. You can hear a sample on the wikipedia page, though.
Next, I found the river that fed both from and into the lake in a kind of faux natural fountain. There were more of the shadow koi dancing in smaller ponds around the woods. I watched butterflies flitter through the trees looking for the recently departed spring flowers. I found an inch worm that I tried desperately to photograph, but he was just moving so fast that everything is blurry. It was still fun to watch the little bug I know only from kids songs.
Although the spring flowers were gone, and the summer flowers were not yet blooming, I did find one fascinating splash of color among the green leaves. The Japanese maple trees were putting out "helicopter" seeds that were bright pink! Not autumn leaf red, no… like hyper-Barbie pink. They very tips of the green leaves took on the same pink hue. This was beyond fascinating to me, not only because I had no idea leaves could be pink, but because there's no reason for it. Flowers evolved colored petals to attract insects (and other animals) that will help spread the pollen and fertilize more plants. The maple seeds are wind blown. The helicopter blades fly on the wind. Any kid who ever lived near any such seed bearing tree has played games watching how far the spinning seeds will go. They don't need insects to be attracted, so why the heck are they pink?
Finally, because I can't take a vacation without finding the waterfall, I found the waterfall. I am reasonably sure given the size of the park that the river and falls are man-made, but they don't look like artificial fountains, they look like natural waterways. It's a specialty of Japanese gardens to cultivate nature in a pleasing manner while still maintaining the natural beauty.
About that Umbrella?
Sometime while I was in the trees, the rain really picked up and when I came back into the open, it was definitely umbrella weather, and I still didn't have one. Plus, the map indicated that my walk to the nearest public transit station was just over 1km, a distance I don't mind walking in better weather.
I decided it was time to leave the gardens. I could have spent much more time there in better weather, but even in the rain I feel like it was worth the entrance fee and the walking around time. It truly is a beautiful and relaxing place. I pulled up my map (satellite map works even without data or WiFi) and oriented myself to find the park exit nearest my destination. I double checked with the ladies at the gate on my way out that I was heading the right way. I love Google Maps, but I still like double checking.
With a 1km+ walk ahead, I was sure that I'd pass any kind of convenience store on my way between the gardens and the station where I could re-umbrella myself, but it was very residential. I know Korea has an insane number of convenience stores, but most places I've been in Japan have a reasonable number (at least one every couple blocks) or if they don't have those, then they have tourist stands selling stuff which always includes umbrellas on rainy days for people who forgot theirs. The neighborhood around Tokugawa is bereft of all these.
Some way into my walk, I just became committed to being wet. I was on my way back to the apartment after all, so I just had to survive the subway and I could get a hot shower and a change. Then suddenly, a kind faced Japanese lady came up beside me. She spoke rather quickly, but I came to understand that she was offering to share her umbrella space with me as we walked in the same direction. As we walked along the otherwise abandoned streets, she asked me the usual foreigner questions: where are you from, what are you doing here, etc. I was struggling with my Japanese all week because it kept getting mixed up in my brain with Korean and I felt embarrassed by my total inability to string together a sentence, but she was patient and kept at it, smiling the whole time.
When she asked where I was going and I told her, she was completely shocked. But that's so far! Yes, I know, but I'll be ok, I'm going back to my friend's house next. She tutted a bit more about the distance and when we came to the intersection where we would part ways she began to give me her umbrella. This was no cheap conbini umbrella, it was a nice, heavy, decorated affair. I shook my head and gestured for her to keep it while trying again to explain I would be ok. I'm not going to melt however often my students say I'm a witch. But she insisted further.
I remember learning back in my first year of Japanese classes that it is necessary to refuse 3 times to be really sure, and while I would certainly have appreciated an umbrella, I felt awkward accepting such a nice one from a stranger. So I refused again, and again she insisted, telling me her house was just across the street. And a third time, really are you sure, I will be ok, you shouldn't do that. And a third time she offered the umbrella, so I finally decided I should accept it with grace and gratitude. I thanked her profusely and bowed. She was grinning from ear to ear, so I think somewhere she's telling the other version of this story where she got to rescue a poor foreign visitor in her neighborhood. It was such a nice umbrella, it kept me dry all the way home, and I made the effort to get it on the plane back to Korea because even though it didn't fit in my carry on luggage, it's too precious a souvenir to leave behind.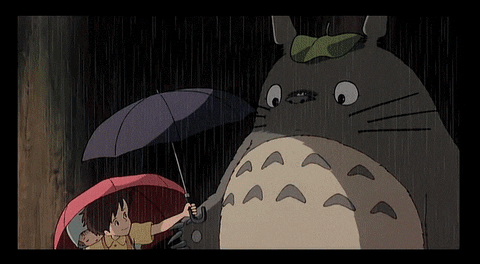 ---
That night we feasted on conbini food and managed to make some working rubrics for her essay classes. The next morning I made the long trek back to the airport and my home in Korea. Because she and I both live a bit far from our airports, it's still about 6 hours of total transit time from my house to hers. Too long for a regular weekend, but I hope for another long one where I can go back and see some of the things I missed or at least see the best ones in better weather.
Less than a week till I'm wheels up again. It's getting down to the wire trying to finish my end of semester work at the University and get my trip planned out enough to be sure I can get tickets to everything I really want, and have back up plans for when I can't. I hope you enjoyed Nagoya. Thanks for reading!