It's been both hectic and great getting used to this new job. Learning the ins and outs of my office, my classes, my students, and my new town has taken up a lot of my time, but I'm hoping to have more writing time soon. I'm also hoping to have more adventures to write about now that spring is springing and nature is more welcoming. For the moment, content yourselves with continuing the harrowing tale of my months long hunt and eventual capture of the elusive Korean University Teaching Job. 
---
Interviews
It wasn't until November 17th I got my first positive response, and it was still a soul-crushing nightmare. I didn't realize it at the time, but Korean universities all want to do face to face interviews… for the first round of shortlisted candidates… during school hours.
This school wanted me to travel 4+ hours to have a 15-minute interview and then travel back. I would miss an entire day of work, including class time, which is just not possible with EPIK. I could arrange to use my PTO to leave the building early (after classes but before "end of work") or on a desk warming day when there are no classes, but the only reason to miss out on time in front of the students is being in the hospital. Yes, ok, I could possibly fake being sick and head to an interview, but this was the initial round of the application process not a final formality and there was no guarantee that I'd be offered this position, or accept it. How many more interviews would I have to attend during this process? I couldn't burn my school out either because I still needed the CT and principal to be good references.
I had to turn down the interview. My first "real" interview was a week later when I managed to schedule a phone interview with another school.
12 December 2017

What is with the schools who want me to get on a bus for 4 hours to have an interview on a work day? If your foreign candidate is living in your country, they are probably here on a work visa, which means they're working… probably as a teacher… which you are hiring for… would you let your teachers take off a day to go interview at another school? no? then WHY do you think we can come to you?
Midway through December, I had to turn down another face to face interview because of scheduling and travel. I had the flu, and even though the university was willing to work with me to change the time so that I could come on a Friday evening (leaving Busan after my last class at 12:30 to get there in time), I felt that pushing through the school day, and a 4 hour bus ride, with a flu that had me barely able to talk and totally unable to stop sipping tea and blowing my nose every 3 minutes was not going to make me a good candidate at the interview.
I managed another phone interview and one more skype interview a few days before Christmas. I was briefly feeling confident that I'd be able to make this happen without having to take time off work or spend tons of time and money bussing across the country.
Christmas Eve Blacklist
Going more than a little crazy, I made myself this promissory list on Facebook to help me through the holidays.
24 December 2017
Plans:

Get a good uni job in Korea
Get a spring start job elsewhere
Leave this apartment by Feb 25th no matter what
Move to Penang and keep applying for a uni job with a fall start
If no uni job presents itself, take any decent job and get into PhD program earlier than planned
online teaching
vietnam short term contracts
If this whole mess falls apart like crazy, go back to Seattle for a few months and then get into the PhD program
Do not falter.
Do not accept a job that will make you miserable (at least not until you're down to airfaire money)
Do not give up.
Do not go crazy.
I was actually offered a job that day. I thought I'd succeeded in only applying for positions I would actually accept. I mean, there's no point in applying for a job that obviously doesn't work for you. I had already limited my search to universities. I rejected ads that had too many teaching hours or questionable lists of extra duties. And I rejected places that were too far out in the boonies because I know that about myself. So when I got this offer, it was like, "Merry Christmas to ME!"
Then I looked at the contract, and it was not even close to what the ad had said or what was said in the interview. The work hours were all over the map. A teacher could be expected to have a class anywhere from 8am to 9:30pm. The 16 hours "average" was based on a semester total, and overtime was only paid by the semester, so it was possible to work 27 hours in one week and 8 in another but still not get OT. Moreover, I don't do split schedules anymore. Some people might like that, I do not.  I really don't trust someone who says, "but in reality, it works this way" when the contract goes on to specify how I'll be getting screwed in hours and pay.
My suspicions firmly aroused, I looked up the school on teacher review websites and found that it was one of two universities in Korea to be on the blacklist… with two negative reviews from the most recent school year about exactly the things I was concerned about. It was disappointing, but my experience taught me that it's better to say no than end up in a job that would make me miserable. I had my back up plans and I had to stick to my guns, so I turned them down.
The New Year
Somewhere in early January, I started getting more into schools in China. I was feeling very hopeless about Korea and discovered that several cities in China have boosted their air quality back to a level I feel comfortable living with, so I expanded my horizons. I'm not going into a lot of detail because this is a post about a job in Korea, but it is still part of the picture that I was hurling resumes out left right and sideways and scheduling phone or skype interviews as often as possible.
During this time, I also caved in and started going to interviews in person. It helped that one finally offered a Saturday option so I didn't have to miss work, even though I did spend 12 hours traveling for 20 minutes worth of interview. And no, I didn't get that job either, although they were very kind and reassured me that I was on a very short list of candidates invited to interview and was encouraged to try again in the future…
6 January · Gwangju ·

Trying not to be nervous. Arrived 1 hr 15 min early. Spent 30 min waiting for a taxi. I really don't want to ruin this cross country journey by being 5 min late because of taxis.
Then a weird thing happened. A school I'd applied for and not even heard a peep from back in November put up another hiring ad. I emailed to be sure it was real and not some scheduled ad they'd paid for and forgotten about and was told yes, the school was doing another round of hiring after all. So I submitted my credentials again. A couple days later I get an email asking me to call them and after verifying I am the person matching the paperwork. Yes, I'm really me.
They politely tell me how sorry they are but the Dean will not approve an interview because they don't accept "private academy experience". "I've never worked at an academy. What are you talking about?"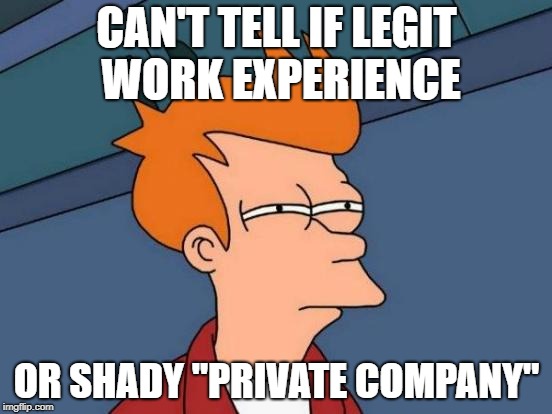 After some misunderstandings, we realized the name of the company that hired me to teach in Saudi looks too much like a private English Academy and they disregarded the part where it said the name of the University I worked in over there. If the kind gentleman who received my email asking if the ad was real hadn't felt bad and wanted to personally apologize, they would never have thought twice and I would never have known why.
I have since updated my resume to showcase the UNIVERSITY part first and the name of the employment company second, but all this stems from the fact that I got hired by a private company to work at a university which has been a thorn in my resume ever since. Getting experience to translate from country standard to country standard is not easy.
All this clarification happened the night before the interviews were scheduled, but it was in a town only one hour away, so I was barely able to squeak in getting to leave early from work to catch the intercity bus and the very last interview of the afternoon. To highlight how ridiculous this permission thing is: my classes finished at 12:20, I asked if I could leave at 12:30, I was told, no you have to wait until 12:40. I have no idea why, but this kind of insane scheduling nonsense was just one more stressful addition to my plight to attend interviews.
Plus, they wanted yet something else for the interview, because everyone wants to make their candidates create unique original content just for them. So I had to make a whole new Powerpoint presentation about my educational style and lesson plans with handouts. The only advantage of having to make slightly different versions of application and interview materials is that over time it does get easier to assemble the custom build from parts you've already made before.
Choices!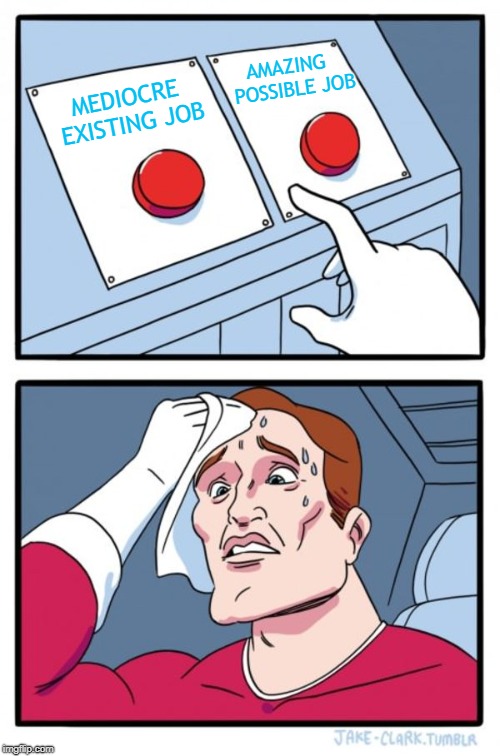 While all this was going on, I was offered another position. It wasn't as blatantly awful as the first but it was less than ideal. It was a few more hours and a less than great schedule, in a large city that I happen to know is too hot, but no clear deal breakers. I could be okay there. Not happy, not miserable, just okay. Which isn't bad when you're on a path to level up your career. The hard part was, they needed an answer while I was being invited to this interview at a school I really liked, and one other that was at least close to Busan (allowing me to keep my social life here). Do I take the mediocre and totally palatable bird in the hand or do I let it go and risk losing everything in pursuit of a much better bird?
I turned them down too and went to more interviews instead.
Winter Not-Vacation
The next week was my winter vacation. I didn't go anywhere at all. Not only because it was a shorter holiday than I usually take, but because not knowing if the end of February would find me hopping off to Penang, moving to my new job in Korea, or moving to my new job in China, I couldn't justify spending the money on a holiday if I was going to have to spend it on living without a job for 5 months or relocating to my new job site. Instead, I went to more interviews.
I went to another near Busan, less than an hour away. I discovered there were 8 people interviewing and only 2 open positions. I wondered how common this was. I wondered how many times I would be invited to round one, beating out 100+ paper applications to make it to the top 10 or 8, then not be good enough to be the top 2. I got a rejection text later that same day.
15 January · Busan ·

I hate job hunting. I hate the fact that everyone wants something different but you never know what and are treated like an idiot for asking. I hate investing hours and hours and getting my hopes up only to be told I came in second place, really great candidate but there was just one person better. I hate the emotional rollercoaster of hope and rejection.
Too Much Winning
Then suddenly it happened. I got an email from THE JOB, the one I really wanted, the one I applied for twice, the one that almost didn't interview me because they misread or I miswrote my CV. It seemed provisional, they said they were recommending me to be hired and had to wait for permission. I was almost sure it was a formality but it seemed so strange. I had one more interview scheduled for the next afternoon and I almost didn't go, I was so thrilled to be leaving the emotional nightmare of job hunting behind me.
Instead, I got on the bus and headed up to the next big city down the road. I found the campus easily enough and I had the best interview I think I've ever had. I was so relaxed and apparently the hiring committee had had some terrible interviews before me so they were relieved to hear that I had reasonable answers to their questions. We cracked jokes and laughed at each other's silly comments and they told me about the job and it sounded magical. Like, everything I ever wanted magical. Low teaching hours, no crazy staff meetings, no office hours, no writing classes, huge paid holidays, and it seemed like I really got on with these people.
I went from feeling worthless in despair to having 2 great jobs in front of me. They emailed me the very next day to offer me the position. My emotional switches were all over the map. I couldn't make up my mind which was better. There were no clear advantages to either place and nothing even close to a deal breaker. It was like I'd arrived at the next level of career and had no idea what to do now that I was there.
*Oh, yeah, and one of those Universities in China offered me a position as well. But with two great options in Korea, moving just didn't seem appealing. No matter how great a story teaching Political Science courses in Communist China might be.
In the end, my choice was almost entirely emotional. I spent as long as I could putting off committing to one university and I feel bad that I had to withdraw from one of them because I truly believe I could have been happy at either place. In the end, one of the new hires at the school I chose withdrew at the last minute too. I'm told it happens with regularity because basically everyone is doing what I did: interviewing everywhere and then going with the best offer rather than the first. When I showed up for orientation, I was the only new person at the university I chose because everyone else they had hired had backed out at the last minute.
What did I learn?
Apply like mad, but weigh your investment. There is something to the idea of applying for jobs even if you don't meet all the requirements, but in the case of jobs abroad make sure you do meet the visa requirements (set by the government) and there can be some flexibility of the school's requirements (set by the Dean). However, when employing the scattershot application tactic, be sure to draw the line at applying for jobs that will waste time and energy for too little potential return.
Don't be afraid to say "no". Of course, if you get your dream job on the first try, like my friend who applied to one university in Japan, interviewed and was hired (what is the word when you're happy and jealous at the same time?), if that happens, there's no need to say anything but "yes". In my case though, I got offers that weren't great and if I had accepted them, I would have missed out.
Practice. Practice. Practice the paperwork and the interviews. The more versions of your cover letter you write, the easier it gets. The more variations of lesson plan you compose, the easier it becomes. The more interviews you do, the more you get used to answering the questions that will be asked. I won't say it's never a waste of time, but a lot of these failed applications and interviews helped me get better.
Don't give up. Cry, eat too much chocolate, put that Will Smith inspirational video about failure on a loop, call your mom in the middle of the night. Do whatever you need to do to push through the horrible feelings of failure. I wrote a 3-page essay on my feelings of failure and posted to Facebook thinking "oh, no one is going to read this" and I got a massive amount of support from people who either do or have felt exactly the same way.
Being in 7th place is ok when there are more than 7 prizes. Okay, 7 is arbitrary, but I have this theory that the reason I got only crappy responses in December and way better offers in January is that all the people who were more qualified or better at interviews got those good jobs in December and were off the market by January, giving those top spots up to me. I feel no shame. My elementary school Korean coworkers were all jealous as hell of my new job, so I know I did good.
There is no "ultimate guide" to getting a university job in Korea. I read dozens of articles and blogs and listicles and they all have things that can help guide you, but nothing is really definitive. You don't have to have an MA. You don't have to be published. You don't have to know someone who already works there. You probably don't even really have to be in Korea. I had two offers from places I did phone/skype interviews with. All you have to do is qualify for the visa, apply like mad, and play the game of chicken: keep applying and going to interviews as long as possible because this country is still made of last-minute actions.
---
I've been at my new job for a month now, and so far I'm really happy with it. I know there will be things about this and every job I have in my life that I do not like or that I will complain about. I don't expect it to be perfect. But I think it's going to be a good step upward in my quality of life as well as in building my future. Only time will tell. In the meantime, I get to explore a new part of Korea (Gyeongju) and I get to have students who are forming adult thoughts, plus some generous vacation time this summer for more international adventures. Year of the Dog, here I come!