I am dedicated to tolerance, understanding and bringing good things to the internet, so I don't normally bring my soapbox with me to this blog. There are plenty of issues around the world that make me seethe to myself or to my friends over a few beers, but generally I don't think I'm going to change the world with a blog post, so that's where it stops. However, since becoming a person who identifies as a teacher, I've come to notice this really insidious problem.
Disclaimer: This is in no way disrespecting the babysitters, kindergarten teachers, au pairs and other caregivers/educators of the young. YOU GUYS ARE AWESOME.  This is a rant about something that I perceive as a problem in our global education and childcare ideals. 
---
In my whole life I've never wanted kids. Never. I hear this is a really controversial topic right now, like all over Twitter, because people like to trash women who don't use their ovaries as being selfish or not fulfilling their life's purpose. Well, &$*#! 'em. We have 7 billion people on earth, we really don't need the product of my ovaries to survive as a species.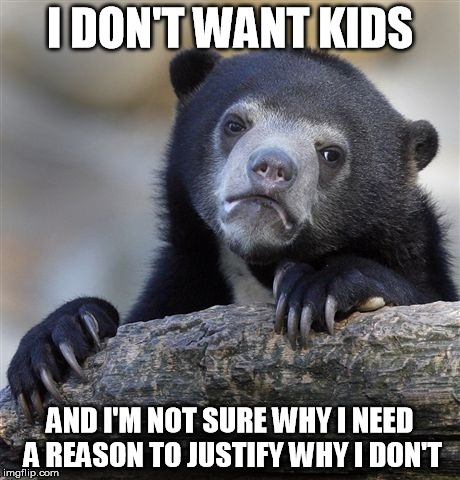 It's not that I hate children. My sister has two, and I love them to bitty pieces. I lived with some friends and their new baby for over a year and I really enjoyed watching her grow. When my friends bring their kids to events I might have an epic pillow fight or a crazy treasure hunt. People tell me all the time how good I am with kids. Still doesn't make me want one of my own, and it doesn't mean I want to spend my whole day with them. Mine or someone else's.
I'm a teacher, so I want to help others. I enjoy working with young people to help them reach their dreams. For me, part of what makes this so rewarding is that the students have dreams to pursue, and another part is that they can share their lives and culture with me too. It's almost impossible for me to do this with small kids (under 8 is the traditional definition of early childhood, by the way). I'm not really sure how much of that is me and how much is them, but it doesn't really matter since I'm not burning to start a pre-school career. What matters is that asking, "what color is it?" twenty times in a row and getting super excited over every answer is not as fulfilling a lesson for me as it is for the 4 year olds (or this woman).
Am I doing it wrong? Probably, I'm not trained in early childhood education!
I have done some reading about childhood neurological development so while I am no expert I do know that it takes quite some time for the brain to fully develop. There's a good chance it's not done till the mid-20s, and it's certainly not done at 4-5. I've also met some people who have gone to school for early childhood education, like MAs and PhDs school. One of my biggest pet peeves about my own education is when people assume that because they read a book or watched a documentary or took an intro level class in undergrad that they know as much (or more) about my field than I do. Or even worse, that if I can't compress my years of intense study and research into a 15 minute conversation that just proves I'm a) elitist, or b) wrong.
Because of this, I don't presume that a little bit of on the job training makes me remotely qualified to teach early childhood education. I'm pretty sure if we could learn it in a few hours people wouldn't be getting MAs and PhDs in it. Oh, and lets not forget all the non-education related parts of dealing with children including behavior, communication, discipline and health (I'm not really up for cleaning up snot or any other bodily fluid). And yet, schools and parents seem to think that they can throw their kids in with any old native English speaker and *poof* education will happen!
Job after job that advertises for "teachers" but actually wants English babysitters are flooding career websites. And you know what, there's nothing wrong with wanting your teeny toddler exposed to a second language early on. Lots of clever folks with degrees and research studies think that's a great way to help them become bilingual. But I promise you, a couple hours a week of singing ABC and counting to 10 is NOT creating a bilingual genius in your kid. These "schools" are scamming parents and teachers alike and it's got to stop.
First of all: teachers, early childhood educators, babysitters, and au pair/nannies are all different things. Teachers study techniques for classroom management, lesson planning, student evaluation, etc. that are based in a classroom environment of 20-30 students studying a subject with specific learning goals. Those techniques don't work under a certain age.
Enter early childhood educators. These folks are working on specific learning goals in a less than full classroom structure combining regular play activities and learning goals. There's all kinds of literature about learning through play, what kind of cognitive development to expect from the different ages (hint: it changes a lot more between a 2 and 4 year old than it does between a 12 and 14 year old), whether or not to favor constructivist or experiential learning, and how insanely important this stage of learning/ development is for a child's success in life. It pretty much looks nothing like teaching the 8+ crowd.
Babysitters are short term childcare. You want to go to a movie tonight, call the sitter and they can make sure your kids get fed, brush their teeth and go to bed on time. Nannies/au pair are full time childcare, they may live with you or just be around every day for a few hours between school and bedtime, and while they might help older kids with homework from time to time, their main function is the overall well-being of the kids: to feed, bathe, discipline and entertain, not to teach them.
Is there overlap in these jobs? Of course. But that Venn diagram is four distinct circles with slivers of overlap, not one mushy blob. We are all doing ourselves and the children a huge disservice by seeing these positions as interchangeable. I guess, given the total lack of respect that both educators and childcare professionals get in the US that I shouldn't be surprised by this trend elsewhere, but I can't help it, I'm mad about it.
I'll say this again: I'm not raising teachers above childcare professionals. I think they are both challenging, rewarding and important occupations. But I also think that they are totally different. Let's look at some metaphors.
Airplanes
Essential to modern society. Someone needs to design the airplane, someone needs to build the airplane and someone needs to fly the airplane. There's plenty of overlap in these jobs because they all have to know a bunch more about airplanes than you or me, but if you really think about this, you'll realize how ridiculous it is to put an engineer in the cockpit solely on the basis that he designs planes, therefore he should know how to fly one.
But, Kaine, kids aren't airplanes. No, they're much more complicated, they just happen to be easier to make (and maybe slightly less expensive).
Healthcare
The healthcare system is pretty important to the functioning of society. If you go into a hospital, you expect that your examination and diagnosis will be done by a doctor. They're kind of jerks most of the time, brusque and in a hurry, but they're stuffed full of training and experience. Then a nurse, much nicer and with more time for you will come by and help us make sense of the diagnosis, treatments etc. A pharmacist will help you manage your medications, dosage and interactions. You may need a caregiver who can assist with administering those meds and keeping you clean and fed while you are too sick to do it all yourself. Caregivers may visit your home or you may live in a care facility that is not a hospital. All these positions are valuable, and all require years of medical training and they all deal with sick people, but in very different contexts. Part of it is training and part of it is temperament. Caregivers shouldn't be making medical diagnoses due to lack of training, and while cardiac surgeons might know how to be in-home caregivers, they'd probably suck at it because they don't want to be there, they want to be in the OR.
I could go on and on. I see this in IT all the time. People think that if you can do one thing with technology you should be able to do everything with technology. So they end up compressing incredibly different jobs further and further down in an attempt to pay the smallest number of people the least amount of money for the most work. And I can almost understand that attitude when it comes to your website, but your children?
---
Parents,
There's no doubt that having more money means you can provide your kid more opportunities, but you still have to make smart decisions about where to spend it. So stop enabling scamming "English Schools" by throwing money at them to have teachers with no early childhood education training babysit your (under 8) kids in English and call it "learning". Decide what you want and make sure that's what you're buying. Do you really want your kid to learn a
second language? Then get enrolled in a school that has trained early childhood educators or hire an au pair who will help your kid learn naturally by constant daily interaction. Just want your kid out of your hair for a couple hours a day? Hire a babysitter or a daycare service. The only reason to send your kids to a school without properly trained teachers is to brag about it at book club. Stop.
Schools,
Advertise for the skills you really need. If you want to be an early childhood education school, then hire ECE trained/certified teachers. Don't put up an ad for teachers and then describe the job as singing and dancing with 2-5 year olds all day. If you'd just be honest about what you want your staff to do, you'll find qualified staff. I know folks who love working with kids but would never think to apply for your job because they don't identify as "teachers". I've met more than a few au pairs, many of whom see it as a great way to travel. They don't want to "teach" either. And as a teacher, I don't want to babysit. The only reason to call a babysitter a "teacher" is so you can pretend your daycare is a school. Stop.
Educators and Childcare professionals,
You are probably the most important group to take a stand here. All the jobs I've talked about are important, but different. Sure, there's a lot of overlap, but there's no reason for you to do work that you a) aren't trained to do or b) didn't sign up for.  Parents and employers try turn you into something you are not, and you let them. Stop.
Be proud of the role you have chosen in raising the next generation. You trained for it, you're good at it and you enjoy it. (cause God knows we don't do it for the money) Help yourself and the kids in your care out by reminding everyone you aren't an interchangeable cog but a specific part of the growth and development of a future adult.