I have always loved tiny versions of regular things. As a child, I was most fascinated by toys like my tiny working blender where I could make about 2 oz of chocolate milk at a time, my tiny Barbie spoon which I would use to make a dish of ice cream last longer, and a series of miniature fuzzy animals. Living in Japan in 3rd grade may have been the most ridiculous overexposure to the cute and the tiny since I was easily able to get tiny art supplies, tiny erasers shaped like tiny food, and tiny key chains shaped like tiny everything. As an adult, I have stopped acquiring stuff so much, but I cannot help but squee at the sight of well reproduced miniatures. Thus, when I found out that Europe has a proliferation of miniature theme parks, I was captivated. After careful consideration, I chose to visit 3: The Mini-Europe in Brussels, The Madurodam in Den Haag, and the Miniature Wonderland in Hamburg. I was not disappointed.
---
Mini-Europe, Brussels
The weather this summer was insanely hot, and the northern Europeans are simply not prepared. It cut into my outdoor activities severely, and I almost didn't make it to this park. Lucky me, there was a single cloudy and cool day during my week in Brussels. It doesn't make the best photos, but overcast skies certainly make a happier me.
The park is right next to the Atomium a huge statue constructed for the 1958 World's Fair. I honestly believe that nearly every strange structure in a city can be attributed to this cause, not the least Seattle's own Space Needle and the Eiffel Tower in Paris. You can go inside. I did not.
General admission is not too expensive at 15.5€ and it's so full of amazing things that I felt it well worth the cost. I recommend bringing snacks and drinks since the on-site Cafe is overpriced.
Once inside, there is a winding path through a whirlwind tour of Europe. It is seriously all of Europe. The most famous buildings and historical sights of each country (at least as decided by the Belgians). It's enormous.
While ogling the array of tiny architectural marvels from a distance, I came across a series of informative signs at the front. They were… interesting. Among other things it gave credit to UK for modern democracy (as an American my response is, "um excuse me?") and also represented rampant European colonialism as "the spirit of adventure". I know each culture teaches history in their own way, but… I suppose if the history can't be accurate, at least the architecture is pretty spot on. (top: mini Brussels, bottom: real Brussels)
Some vignettes were reproductions of old villages, but most were modern familiar and famous sights. At the starting point for each nation, there was a button to push that played what I'm fairly sure were the national anthems. Some exhibits were also animated, many activated by another button. As you can imagine, kids raced along to be the first to push each button.
Because they're miniature and placed on the ground, most exhibits are at eye level or below. I took some bird's eye photos, but my favorites are the ones where I was able to get level with the model ground, as though I were standing inside. I used the selfie stick a lot to get better angles, and wished I had a better zoom since many of the amazing details were hard to capture. The three I loved most were Galileo testing his ideas at Pisa, Don Quixote and Sancho in la Mancha, and a tiny blue TARDIS in London.
I was blown away by the level of detail, the cathedrals especially. It's hard for me to say how accurate they all are. I found the models of places I've been before to be a bit lackluster, while I found the ones I haven't seen in person to be amazing. I visited several of these cities after Brussels, so you can see for yourself how they stack up. (top: mini Copenhagen, bottom: real Copenhagen) 
More than anything, it reminded me of the "bigatures" that were used in the LOTR movies. These models were often gigantic, the size of a sofa or even a car, yet because the originals are multi-story, towering masterpieces, it still counts as "miniature". (left: mini Maastricht, right: real Maastricht)
It took me hours to navigate the entire park, and I am ashamed to admit there were one or two countries in the mini-EU I hadn't heard of before. Overall, it was an amazing visual experience, and a fun photography day since I got to do a lot with experimental angles and effects. I took hundreds of photos, but here are the 50 I think are best.
---
Madurodam, Den Haag
The Madurodam is far more focused than the Mini_EU. It is exclusively about the Netherlands, while Mini-EU covers all of Europe.  The attempt at being interactive was really more of a pain than an enhancement. Mini-Europe had a plethora of buttons that played music or activated moving parts. Most of the animations at Madurodam were coin operated so cost extra, and the informative audio clips, while free, required you to scan a card to hear it and see the educational video. I was constantly having to rearrange my camera and sunbrella (umbrella for sun) to dig the card out of my pocket. 
Despite this inconvenience, I did enjoy the miniatures. The quality of the constructions was high, and I liked the fact that there were more scenes of neighborhoods or city blocks rather than just a single monument in isolation. It's hard for me to speak to the accuracy, and I didn't recognize as many landmark buildings, since my travels in Holland were somewhat limited. Photography was if anything more fun since I was able to get much closer to the buildings and there were more interesting and active scenes, rather than stark and empty buildings (although both styles have an appeal). The one building I did get to see for real was the Dom Tower at Utrecht (left: mini, right: real life).
One thing that Madurodam had that Mini-EU lacked were the shows. There were several locations where one could go into a small theater and watch a kind of puppet/animation show about some aspect of Dutch history. The shows reminded me of 80's Disney animatronic entertainment, and some used puffs of air or sprinkles of water to create realism. 
One was about the namesake Maduro, one about the rebellion against the Spanish with William of Orange, and one about the founding of New Amsterdam. The performances were lovely, and I'm grateful that they were all available in English as well as Dutch, but the content left me feeling very uneasy.
George Maduro was a military officer who fought in WWII and eventually died in Dachau. His parents donated the money to start the park as a living memorial to their son. I'm quite sure that the video of his heroics is hyperbolic, but it is the one I mind the least, since it is after all a monument to his memory. Nonetheless, it does seem he was an extraordinary young man, who became a leader at a young age, escaped a German prison, became part of the resistance smuggling Allied troops through Spain, and finally perished in a concentration camp. The presentation was a panoramic movie screen that used a combination of actors in historical dress, photos of historical events, and shadow animation to give a sense of the battles and prison experiences of Maduro's life.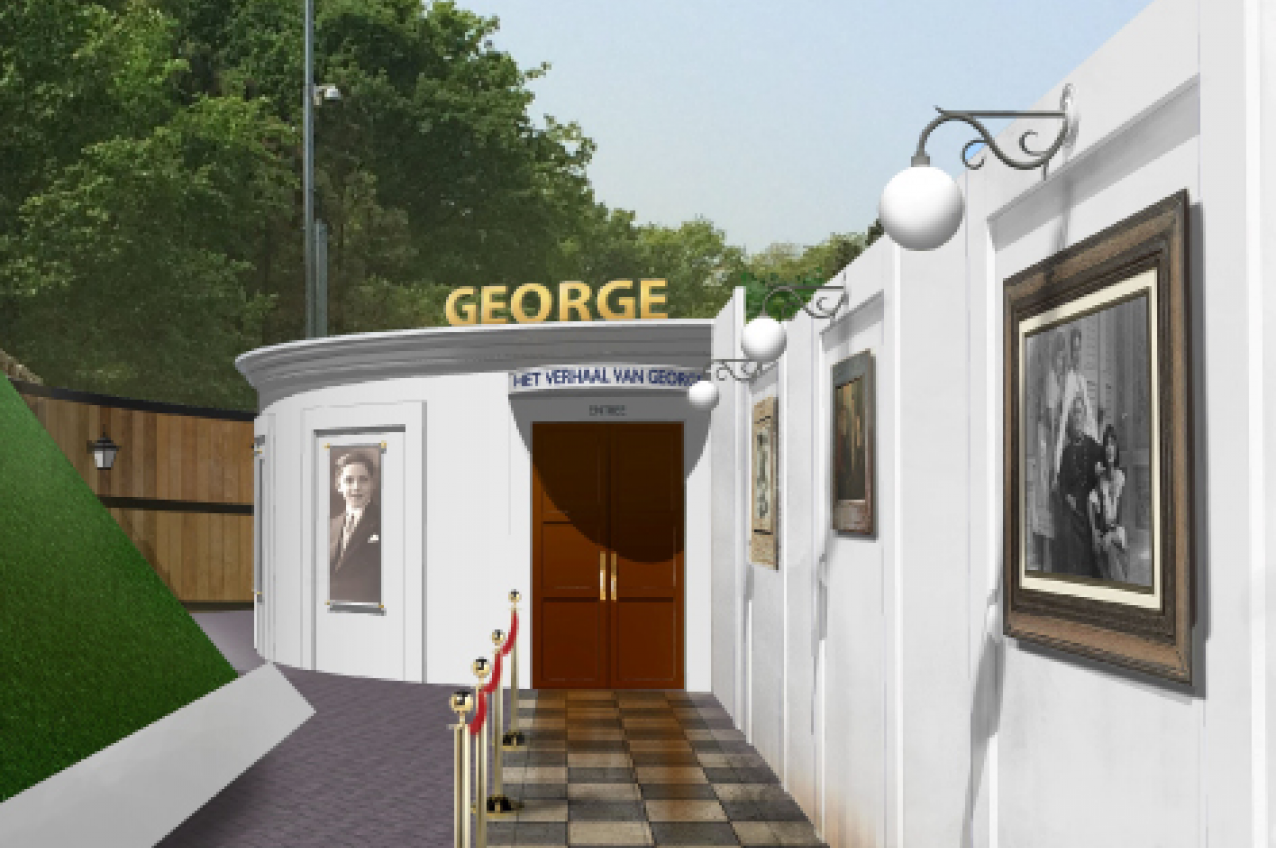 The Rebellion against the Spanish was part of the 80 Years War, or the War of Dutch Independence. It was a combination of religious rebellion (Catholic vs Protestant) and of course the tangled web of European nobility and the right to rule (collect taxes). The Dutch were tired of being controlled by the Catholic Spanish, and William of Orange provided a central figure to rally around. The presentation was captivating. We entered a war room of the mid 1500, decorated with all appropriate trimmings. We sat at a large table and the video projected a revolutionary leader apprising us of the dire situation, and of the need to go to war for Prince William. We were made in large part to feel like active participants in the planning of the rebellion.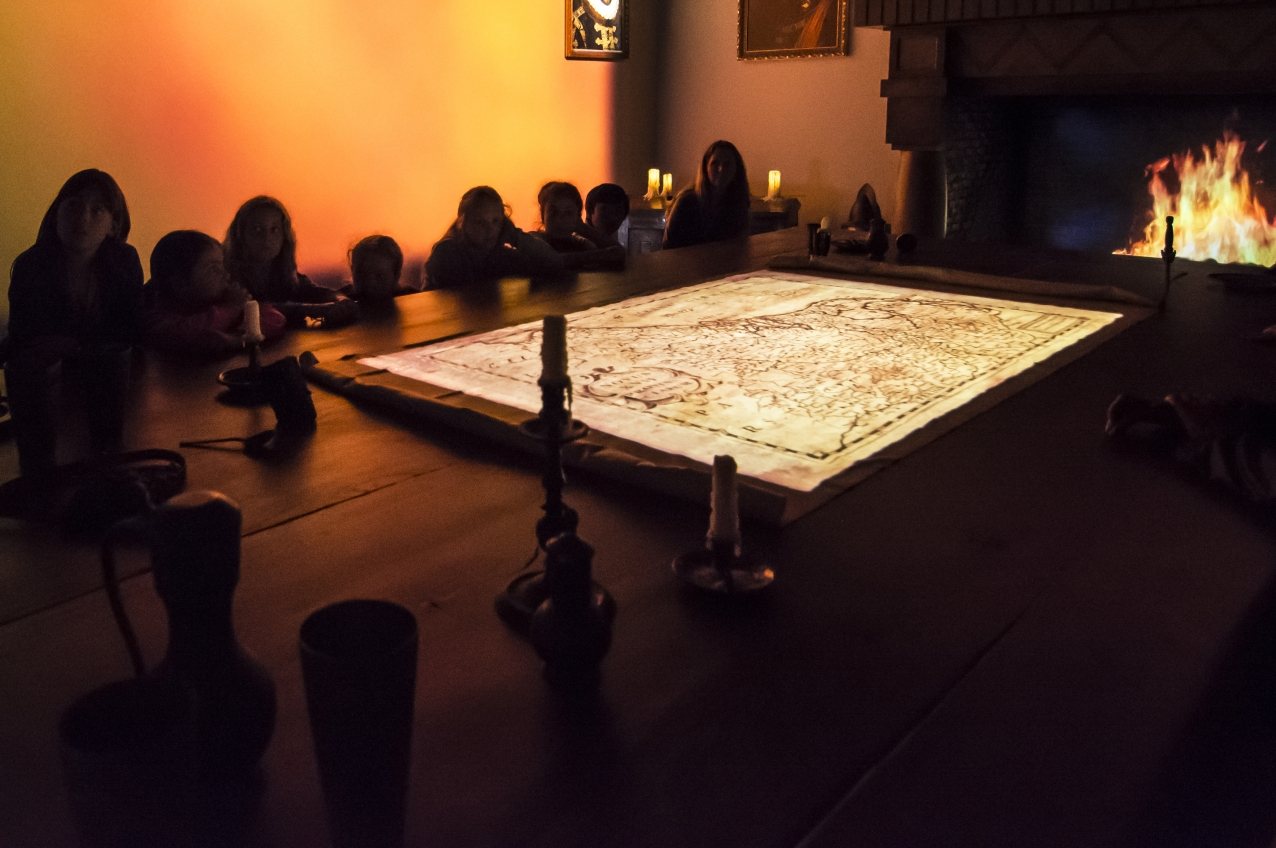 The last performance I visited was the most elaborate. We started off by going in a dark ship's hold. The space was decorated with ship's stores and some animals and it swayed slightly to represent the waves at sea. A ship's captain narrated the journey of the Dutch pilgrims to the Americas, including a small storm with special effects. When the "ride" was over, we emerged into the harbor of New Amsterdam where we stood on the quayside and watched the invasion of the British. Well before the American war for Independence, this battle was fought between the Dutch and English for control of the colony, and the port city later named New York, after the English won. We were encouraged to take up "firelighters" to ignite the cannons before us and try to sink the English ships. Very fun and interactive, but sadly historically inaccurate and loaded down with propaganda.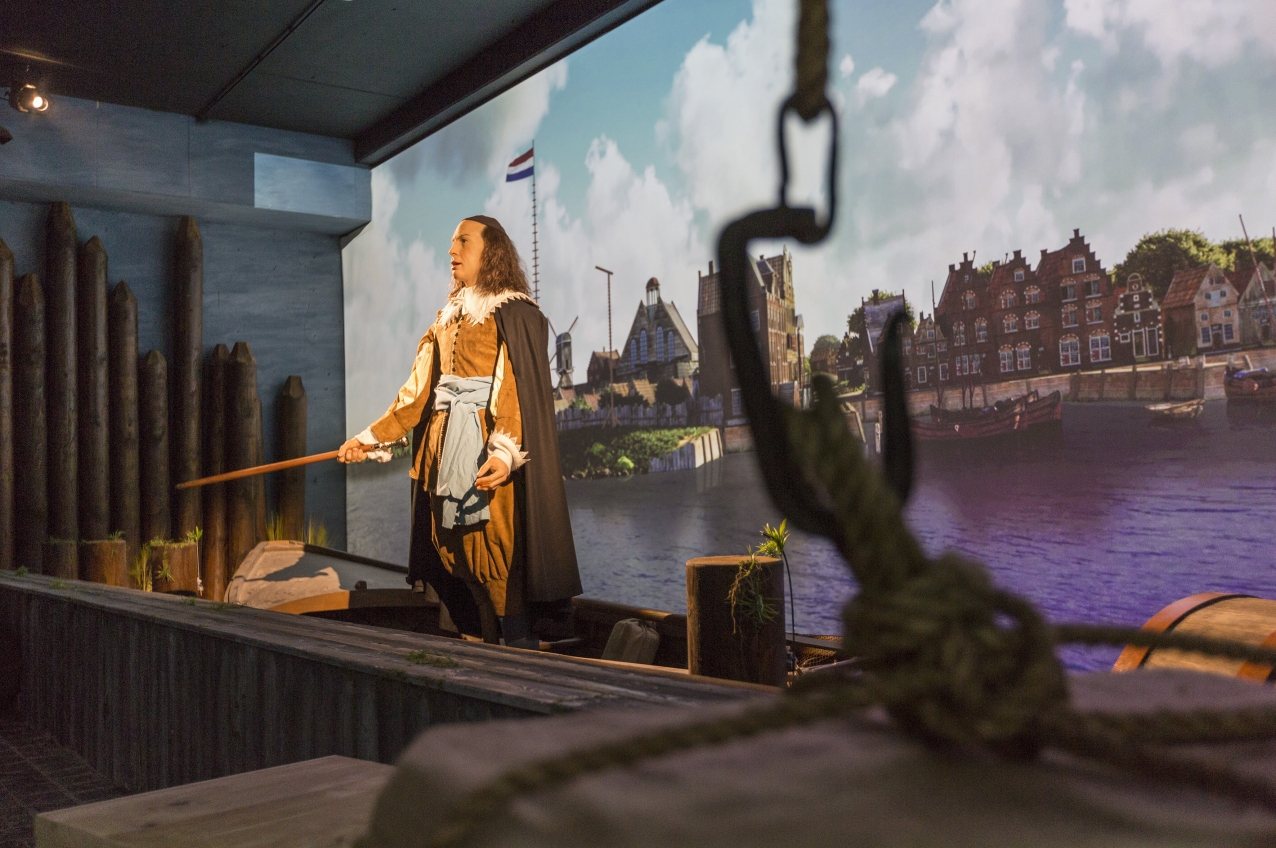 I didn't have the best cultural connection with the Dutch. While I found the individual Dutch people I met to be courteous and friendly, the culture as a whole felt to me like one of wealth and entitlement. Madurodam was far from the only place I encountered these attitudes while there. Basically every Dutch written info blurb or tour guide about this country did this at least a little, but the shows at Madurodam were best at putting them in a clear and succinct way that helped me identify my unease.
They're rich and proud of it, but more they know they got rich with the Dutch East India trading Co. and rampant colonialism and they're proud of that. Like 'we are so awesome cause we built better ships than those horrible English and we got billions of euros of equivalent wealth by exploiting "unexplored" regions of the world'. Oh and 'we invented democracy a 200 years before America when we fought a revolution against the Spanish (for King William) and we are responsible for everything good about New York, which was completely devoid of people (Indigenous People don't count, right?) when we arrived to build it'.
I did not know anyone was still bragging about colonial wealth. A lot of people (mostly white and Western) benefit from it, but most of us at least try to acknowledge it was a horrible atrocity. They seriously brag about it here all the time. At Madurodom, it was laid on so thick I felt like I was drowning in it. Holland and I are not destined to be friends until this country gets woke about it's role in global wealth inequality and gets rid of the saying, "God made Earth, but the Dutch made the Netherlands."
The miniatures were of excellent quality, and it was a cute park. Despite the colonial superiority complex, I still took a million pictures, which I have winnowed down to the top 50 in this video.
---
Miniature Wonderland, Hamburg
The miniature museum was astonishing. It is completely different from the other two miniature parks. Both Mini-EU and Madurodom were outdoor parks that focused on reproducing famous architecture in miniature with great detail. Miniature Wonderland is an indoor attraction (climate control!), and focuses on the tradition of model trains. If someone had told me "model trains" I would not have gone, and I would have missed out. I don't know what most people think of when they hear "model trains" but I think of the train, the tracks and maybe some engineering specs with a side note of mini-landscapes. At Miniature Wonderland, the landscapes the trains travel through are far and away the stars of the show. The trains are fun, but in many ways, merely an added detail. Although, I did see the Hogwarts Express pass by once, and that was a nice touch. I took so many more pictures here than at the other two parks I couldn't actually narrow it down to 50 photos, so there are 2 videos. Here's the first one.

Famous places were replicated, but in the style of a model train set, rather than a single building. As a consequence, there were many reproductions of famous landscapes, as well as cities, and towns. There was so much detail not only in the buildings but in the humans! There were thousands and thousands of tiny miniature humans engaging in every activity imaginable. There were passengers in the trains and people inside the buildings. I even found some nude bathers in a secluded lakeside retreat!
In addition, everything moved and lit up, not only one or two attractions, but nearly everything. Every building and car had working lights. Of course the trains moved, but also ski lifts, and airplanes, and dolphins in the sea! Some were button activated, others on a timer. It was enchanting. Moreover, the lights would change from day to night and different things would be visible. At night, all the buildings lit up and you could see the delicate window dressings, or be a peeping tom and see what people were doing inside. During the day, the landscapes and building exteriors were on display, while the insides of buildings were dark and hidden. 
The museum spans two floors in a large warehouse building near the water. Although there is a gift shop, and a restaurant, most of that space is dedicated to the models. There's also a central control area where several employees monitor the trains movements and other activities around the scenes.
My only complaint is that many of the viewing areas were cul-de-sac, so once you got in to see the point of interest, you were sort of trapped fighting the tide to get back out. Mini-EU had a single path with easy to follow arrows that kept the flow of people moving and avoided clumps or jams. The Wonderland was much harder to move around.
A local woman visiting with her husband noticed I was on my own and took it upon herself to point out the curious and interesting details around the various sets. She would run off and then come back to show me something else, and before she left she made sure that I wouldn't pass by the Lindtt Chocolate factory which gave out actual pieces of chocolate!
I watched Mt. Vesuvius explode and pour lava made of light down onto a tiny replica of ancient Pompeii.
And we all flocked to the airport whenever a plane was ready for landing or departure.
There was even a miniature miniature park!
Tickets are sold for an entry time, and you can stay as long as you like afterward (until closing). Early morning and late night tickets are cheaper, and I got a deal on a combo harbor boat tour. I enjoyed the boat trip, but seriously underestimated the amount of time I would want to spend inside the miniature display, and while I was shuffling out as the exhibits were being shut down for the night I felt I had still seen less than half of the stunning hidden delights tucked away in the extraordinary displays. Here's 50 more of my top photos from the second half of the displays.